In addition to entering public space with my hug models, I am constructing private spaces for viewers to play with them. Again turning to VR, I am constructing a series of environments using a game engine to give players access to these models via the ultimate empathy machine.
In my desert-like virtual landscape, rubberized hugs bounce in and out of the player's vision. They are drawn to each other and to the player, but their velocities prevent them from sticking together. Instead they ricochet off one another after failed moments of connection. The terrain and sky are textured with photographs of the palms of my hands, again to play with scale. Either these hug models, and the player, have been miniaturized, or my body as the creator of the world has been enlarged in the extreme. In either read, I hold the models and the player in my hands as I did in the Smallest Gesture.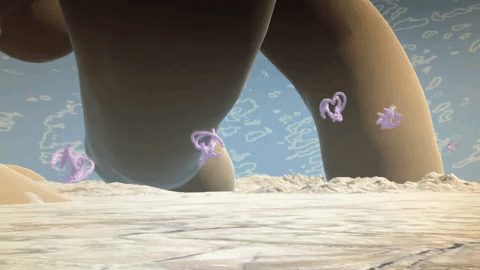 HugWorld documentation. © Tyler Calkin
Elsewhere in the world larger, blue, shy hugs gently roll about in a small valley. There is a gentleness about them (lower values in their public physics variables), and they dance with one another when pushed into proximity. The diligent player can choreograph them into a large, dynamic group hug.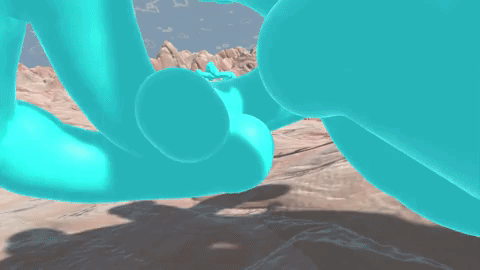 HugWorld documentation. © Tyler Calkin
In one variation on the world I give the player grabbers (not quite hands – I don't want to represent their body), to facilitate the impossible task of creating a group hug from the energetic Pinks and Yellows. The fragile and jittery conglomerations point perhaps to the underlying anxieties that fracture digital social connection.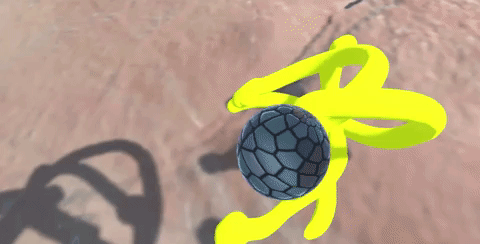 HugWorld documentation. © Tyler Calkin
In neither variation is there direction or a win condition. The environment and its inhabitants merely exist to be explored, contemplated, interacted with, and learned from. Though this world, like Modeled Behavior, starts from a similarly concrete gesture, the player is left in a desert to learn from a set of virtual physics and a flock of alien beings, rather than given a static model contained within their phone.